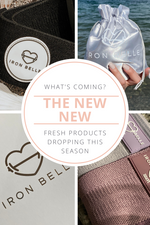 We have some amazing new products making their way for this season's sale & for the autumn season! After the first sell-out of our Original Booty Bands, we knew we had to keep going. There are many changes I would love to tell you about. As a small company, we take Quality Control and pre-sale inspections very seriously. We go above and beyond for your satisfaction.
Our Original Booty Bands were a hit-or-miss. Upon launch, we did discover some issues with our choice and method of threading and knit. Although they were quite pretty to look at, and still served their purpose after aesthetic deterioration; we knew that we couldn't make that mistake again. The aesthetic of our products are important! They represent the grace and voice of our brand. Our team worked exceptionally hard to contract a new manufacturer who has worked with reputable global brands. Our new bands are made with the toughest and most beautiful threading available. Smooth and clean stitching will provide lasting resistance through your entire workout.
Now, I want to present to you the new bands we are launching. We have THREE new products that will be available for purchase soon.
Set of 3 - Over-Sized Body Resistance Bands
These are long, over-sized resistance bands that can be used for any full-body workout. They can replace cable machines that you usually cannot do at home. Tie around strong furniture or poles to mimic the motion of a cable machine! 
Set of 3 - Upgraded Classic Resistance Bands
These are our new Classic Booty Bands but they are fully upgraded with premium knitting technology and beautiful Autumnal colors. We also ditched the mesh bag for chic satin bags! These are now stronger and hold more resistance so you can get the most out of your home workouts.
Solo Adjustable Resistance Band 
This is my favorite new product. It is an adjustable solo resistance band that can be altered to any size with a buckle system, similar to that of a
military web belt
. Choose your custom size, from super tight to large! This is a beautiful versatile product for women of all sizes. If you're short on space or don't want too much clutter at the gym, all you need is this SINGLE band!