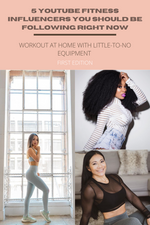 We have all experienced a stranger-than-fiction reality these past couple of months, right? Our gyms and fitness centers closed for quarantine so most of us took to working out at home. And I know, as much as you try to pump yourself up, it just doesn't feel the same as pumping weight at the gym. But, I have a solution! I have compiled a list down below of some of the best reviewed workouts on Youtube.
Some of these Youtubers offer completely FREE workout programs and have amazing content on their Social Media accounts. My goal is to help you find an influencer that you can click with. Better yet, almost all of these will be beginner friendly and will require little-to-no workout equipment. Let's start, and don't forget to let me know what you think!
I'm almost sure you have heard about Chloe Ting. She's a lovely woman with easy yet effective workout videos. So many girls are raving about her on TikTok as they challenge themselves into completing her programs. The best part? She has specialized workout programs such as a 25-Day Hourglass Challenge, 5-Week Booty Challenge, and a 2-Week Shred Program! The appeal of Chloe's videos definitely comes from her creating a challenge for you. It makes you much more excited to see your results weeks later!
Website: Chloe's Website
Youtube: Chloe Ting
Instagram: Chloe's Instagram
Keaira Lashae is definitely the QUEEN of fitness dancing. Her dancing routines are simple to learn even if you aren't much of a dancer. Her high-energy and great spirit is sure to keep you up on your toes. Open up and learn a new style of dance and get a sweat on out of it too! In her videos you will find modifications for her moves, making it beginner-friendly. Below I share a 30-minute Tabata dance video.
Website: Keaira's Website
Youtube: Keaira's Youtube
Instagram: Keaira's Instagram
Natacha Océane is a vibrant woman with an amazing way of instructing her workout videos. She's a Biophysicist and is an Ironman Competitor; making it an asset by creating and educating through her videos with her knowledge. Her bright and fresh background sets are sure to lift your spirits into working out! Here's her most popular exercise video, it's been watched 2.5 million times! It's safe to say she definitely knows what she's doing.
 Website: Natacha's Website
Youtube: Natacha Océane
Instagram: Natacha's Instagram
Ana Mojica is a beautiful Mexican woman who specializes in Spanish workout videos! So for all my bilingual or Spanish-speaking ladies; this one is for you! Ana boasts the classic hourglass body so her videos focus heavily on abs and glutes, almost all at home! Her Instagram is full of videos and instructional posts as well. Aside from that, she also shares recipes and what she likes to eat. Below I share one of my favorite videos, bonus points for it being at the beach!
Website: Ana Mojica
Youtube: Ana's Youtube
Instagram: Ana's Instagram
Maddie is not only graceful with her instructional style but also has a colorful variety of workout videos and that's why I LOVE watching her! Love TikTok dances? Maddie has a video featuring popular TikTok dances and songs that you can easily workout to. Or how about a Pyjama exercise video, where no jumping is required and is low-impact? Below I share my favorite video from MadFit's Youtube Channel, a TikTok dance anyone can follow along to!
Youtube: Maddie's Youtube Channel
Instagram: Maddie's Instagram 
We will release more volumes in the future as we search for more lovely women to add to this list. Let us know who you chose and why! Until then, take care and stay healthy.
-Coco