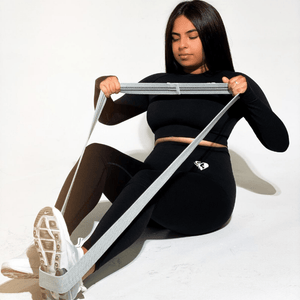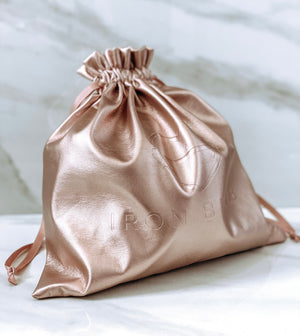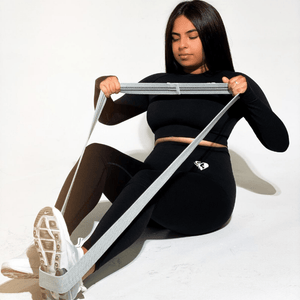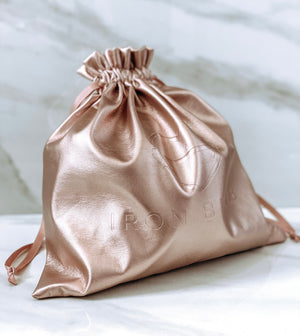 Long Resistance Bands - Peachy Power Set
Our Long Resistance Band Set includes Light, Medium, and Heavy resistance levels. Use lighter resistance for stretching and rehabilitation workouts. Double-up and use two of our bands for a more challenging intensity. Knock out a full-body workout in the comfort of your own home, no other equipment necessary.
Poundage: 
Cool Grey - Light: ~15-20lbs
Peachy Pink - Medium: ~25-30lbs
Midnight Black - Heavy: ~35-40lbs
 All bands are 40 inches long
3 Resistance levels - Perfect For Beginners
Suitable For Anyone: All Levels And All Sizes
Comfortable On Your Skin: Durable Yet Buttery-Soft. No Digging, Pinching, or Snapping At Your Skin
Safety: Will Never Snap, Break, or Warp Due To Stretching
Premium Quality Knitting & Stitching
Anti-Slip Rubber Lining
Unbeatable Quality and Price
Custom & One-Of-A-Kind Pantone Colors Exclusively Designed For Us!
➝3 Resistance Bands
➝1 Custom Mesh Carry Bag
➝Custom Girl-Empowerment Sticker
➝Shipped With Care In Our Eco-Friendly Mailer + Eco-Friendly Tissue Paper & Stationary 🤍
LOVE THEM
received my long resistance bands this morning and immediately went to do a lower body day. i love them. they're perfect for adding resistance and don't get all twisted up like some other bands. everything down to the material and color is perfect (and as listed in the description). i can tell that these will last a lot longer than others, you really pay for what you get! coco was so sweet when I reached out to her; she even included a letter and some stickers with the cute packaging!
Amazing QUALITY! As usual!
I am so in love with the brand, I really look up to Coco, she is so cute! I love how inclusive her brand is. I have the booty bands and just purchased the long resistance bands and they are such good quality and come with the cutest packaging omg. I'll definitely be posting videos putting them to use. Can't wait for what's to come this year from Iron Belle. 💚
Great Purchase
There is a stronger resistance with these and I know they will last a long time.
Have not received my bands!
Long resistance bands
I absolutely love this! It's so simple to use and give you the results you want. It's also very well made! Good quality. Definitely gifting it to my friends and family.